Technology is an evolving world. Here, technology trends change just too rapidly. Mostly, these trends surface from nowhere and fade into oblivion. Only a few are here to stay.
A lot more (almost everything) has changed in the past year with the outbreak of COVID-19. IT professionals realize that their role will no longer be the same in the contactless world. In 2022, people will need to be constantly learning, unlearning, and relearning, more out of necessity than simple desire. Simply put, they necessitate staying current on new technological trends. Here are the top emerging technologies to watch out for in 2022.
Top Technology Trends for 2022
If anyone asks you to define trending, types of technology can be divided into three categories: location independence; people centricity; and resilient delivery.
Location independence: COVID-19 has changed the way workers, consumers, suppliers, and organizations work. The focus is on working remotely. Location independence demands a technology shift to promote this new adjustment.
People centricity: despite the pandemic transforming how people work and communicate with businesses, people are still at the heart of all businesses. And, they require digitised means to operate in today's environment.
Resilient delivery: Whether in a pandemic or a recession, there is a potential for global volatility. Businesses that are prepared to pivot and accommodate are more likely to overcome all types of disruptions.
Without further ado, let us start with the list of new technology for 2022 that are trending now and are set to define technology for years to come:
1. 5G Technology
5G technology is the latest technology that is defined as the next generation of cellular services and networks. It is anticipated to provide a minimum of 20GBPS downlink and 10GBPS uplink, giving the 5G network a speed 40 times faster than that of the current 4G LTE. This will create opportunities for new network operations, services, and customer experience offerings for telecom operators. Currently, this market is commanded by Switzerland, closely followed by countries such as South Korea, China, and the US. It is definitely one of the coming technologies that will redefine mobile services.
2. Internet of Behaviours (IoB)
The technological advancements we are witnessing in 2022 were beyond our imagination even a decade ago. The gathering and usage of data to motivate behaviors are known as the Internet of Behaviors (IoB). Imagine industrial sites employing computer vision to ascertain if employees comply with the mask protocols. This behavioral data is processed and examined by the companies to persuade their employees to abide by government protocols when at work. This definitely comes to the top of the list when asked, "What's trending now" in the technology industry.
You can gather, combine, and process data from various sources, such as:
Citizen data is processed in the public sector.
Commercial consumer data
Government agencies
public domain
Social media
Location tracking
The growing sophistication of the innovation that processes this information has shaped the trend. Come 2022, IoB will be one of the technology trends to watch out for in the trending list of technologies.
3. DevSecOps
DevSecOps stands for development, security, and operations. Its goal is to perform security at a similar scale and speed to that of development and operations. With the more widespread adoption of microservices, DevSecOps appears to be finding its way farther inside the DevOps market. It is one of those technological innovations that can change the future of technology.
That's not all there is. The anywhere operations pattern will be essential for companies to thrive in the current market. At its essence, this operations model enables a business to be reached, delivered and enabled everywhere. This arrangement is now exploring several other technologies, such as GitOps, DataOps, and NoOps.
4. Intelligent Process Automation
This year, we've noticed something even more intriguing — Intelligent Process Automation, which industry experts consider an emerging technology. It is a computing innovation that is definitely going to change the future technology of automation.
IPA, in short, enables bots to profit from the capabilities of artificial intelligence, big data, and machine learning, indicating they can analyze and develop over time. This helps intelligent bots to emerge from the 'If-this-then-that' law. As the use of automation grows, investment in IPA is expected to reach $232 billion by 2025.
5. Tactile Virtual Reality
Innovative technologies extend more immersive adventures like AR and VR. Virtual Reality engages the user in a simulated setting. Augmented Reality is an overlay of digital things in the real world and is a great example of technological advancements. In the next technology news section, Cisco has projected that globally, AR-VR exchange will grow 12-fold by 2025 across all areas of entertainment.
Touch presents a deeper understanding of everything that cannot be wholly experienced by sight or hearing. That is where the concept of Tactile Virtual Reality comes in. It merges the use of several technologies, such as sensors, advanced optics, and so on, bundled into a singular device with the ability to overlay digital content onto your real-time expanse. With the progress of Tactile/Haptic technology, this touch barrier can soon be scaled.
6. Big Data Analytics
Big Data Analytics isn't a new technology 2022. It has been here in the markets for quite some period now. However, in the coming years, more and more enterprises will be embracing it to go past the traditional methods of data storage and processing.
Modern trends like X-Analytics are being used to solve challenges, including climate change, disease prevention, and wildlife protection.
Big Data also gives us exciting trends like Decision Intelligence, which provides a framework to help data engineers design, model, execute, and monitor decision models and processes in business results and behavior. By 2023, over 33% of large companies will have analysts offering decision intelligence.
7. Human Augmentation
Humans have continuously explored technology to improve life as we know it. This questioning nature has now joined another area – human augmentation, which essentially means accepting the help of technologies like artificial intelligence and the Internet of Things to improve our daily lives. It is taking human intelligence to the next level as one of the top technology trends.
Right now, studies have been rushing towards assisting people with disabilities using bionics, prosthetic augmentation, and treating sickness. But the real promise here is to end actual physical disabilities or avert injuries from occurring at all. It can also offer possibilities for other inventive functions. For instance, companies such as Neuralink strive to create a compelling brain-machine interface using the capability to prepare generous quantities of data.
8. Everything-as-a-Service(XaaS)
Everything-as-a-Service (XaaS) is the Cloud Computing term associated with a wide variety of services and applications that consumers can access on-demand via the Internet rather than being utilized through on-premises means. It gives you the freedom to tailor your computing environments to create the desired experiences on demand.
XaaS has expanded to include several services, such as:
Infrastructure-as-a-Service
IT-as-a-Service
Security-as-a-Service
Function-as-a-Service
Database-as-a-Service
As specific applications become more portable, measuring cycles become easier to obtain in real time. Data integration programs streamline connectivity, and vendors develop cross-platform alliances, which may start looking like an Omni-cloud one soon.
9. CyberSecurity
With so many organizations undergoing massive digital transformations, the threat of cyberattacks looms for large organizations and small businesses alike. Now, cybersecurity is nothing unusual, but the related trends definitely are!
A novel approach to cybersecurity, where a signal is transmitted in quick bursts or quantum packets that can't be covertly recorded without disrupting any content. Basically, no individual can intercept data sent to you without injecting some noise into it.
Blockchain cybersecurity is an extra-modular, responsive security strategy that centralizes orchestration and distribution enforcement.
It's beginning to dawn on businesses that having an efficient cybersecurity strategy is not merely an extravagance but an absolute requirement.
10. Artificial Intelligence
A robust AI implementation will promote better performance, scalability, and reliability while offering a complete return on investment. Businesses frequently face specific issues, making businesses treat them as trials. But there are new answers to solve these problems.
Artificial Intelligence Engineering provides a way to make AI a member of the mainstream DevOps method rather than a collection of specialized and isolated schemes. This resolves issues related to maintainability, scalability, and governance.
Tiny AI intends to produce algorithms to shorten existing deep-learning designs without losing their capacities, pack more computational potential into tighter physical scopes, and spend far more limited energy.
This radical technology is ready to bring about another revolution and is on our list of the top technology trends for 2022.
11. Smarter Devices
Our world has become smarter and smoother thanks to artificial intelligence. The goal isn't just to emulate humans but to simplify our lives and make them hassle-free. As data scientists work on AI home robots, appliances, work devices, wearables, and more, these smarter devices are here to stay in 2022 and beyond. It is almost impossible to manage our work life without smart software applications. 
With more companies transforming into digital spaces, smarter devices are another addition to the IT industry that is in high demand. Good proficiency in IT and automation is required for almost every higher-level job these days.
12. Datafication
The term datafication simply refers to the transformation of everything we touch into devices or software that are powered by data. The Datafication of tasks and chores involves modifying them with technology driven by data. The prevalence of data is here to stay for longer than we can imagine. From our smartphones to industrial machines, to office applications, to AI-driven appliances, and everything in between, data is here to stay for a very long time! Our economy is in need of specializations to keep our data secure and safe. 
Datafication creates a need for more IT professionals, data scientists, engineers, technicians, managers, and so much more. Even more useful is the fact that anyone with a decent understanding of technology can obtain a certification in data-related specializations. Many of our successful leaders have emerged from smaller cities and developing countries like India. Additionally, you can learn how automation works in the world of data by taking a course like RPA. 
13. Extended Reality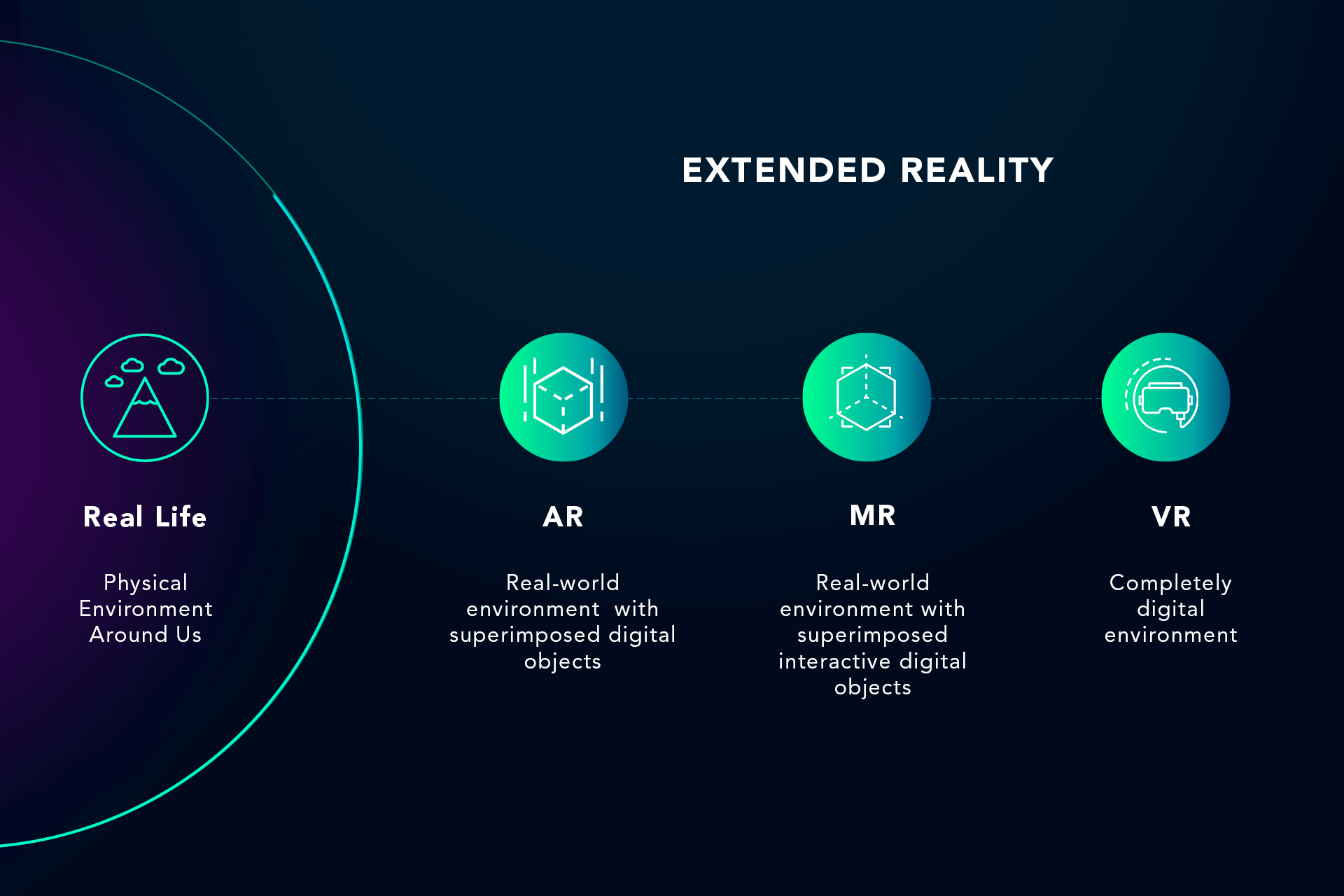 VR, AR, and MR, as well as everything in between, all fall under the category of extended reality. Right now, it's an important technology trend as we crave freedom from so-called real boundaries. Gamers, medical specialists, retailers, and models are all very interested in this technology since it creates a reality without any tangible presence.
A passion for online gaming is enough to qualify for a career in extended reality without requiring high-level qualifications. You can become a successful game designer or animator or even an editor with this specialization.
14. Digital Trust
As people have become more comfortable with devices and technologies, they have gained more confidence and trust in them. Digital trust also plays a crucial role in advancing innovation. The belief in digital conviction is that technology can create a world that is secure, safe, and reliable, and help companies innovate and invent without worrying about securing the public's trust. 
You can specialize in cybersecurity and ethical hacking to make digital spaces safer. Junior to senior level jobs is available in these two fields. A professional certification might be required for ethical hacking, while a diploma or degree might be required for cybersecurity.
15. 3D Printing
Innovative technologies like 3D printing are forming prototypes as a key trend. Biomedical and industrial sectors have benefited from this technology. Right now, we can print real objects from printers, something we never imagined possible. In other words, 3D printing is here to stay. There are many jobs available in the data and healthcare sectors that require a lot of 3D printing. An understanding of AI, Machine Learning, Modeling, and 3D printing is all you need. Architect specializing in organs and prosthetics
Conclusion
Many technology trends fizzle out with time. Even the most advanced technology trends continue on the sidelines and then gain traction, subject to several factors. Several such technologies have made their mark in recent years, and only a few have advanced to become mainstream. These technology trends listed above are likely to emerge as global trends in the coming years.
FAQ
1:What is the latest technology in 2022?
Ans: 5G is the latest technology in 2022 while we see ongoing discussions about 6G.
2: Which technology is most in demand?
Ans: AI and Machine learning are the in-demand technologies for 2022.
3:What are the next big tech trends?
Ans: IoT devices are expected to reach 30 billion by 2022. The growth of this industry will be driven by advancements in sensor technology and data analytics. Many industries will be impacted by the IoT, including manufacturing and healthcare.
4:What future trends do you expect to see in 10 years?
Ans: Wearable devices, IoT, and machine learning are expected to see exponential growth in the next 10 years.
5: What will technology be like in 2050?
Ans: Forbes estimates that 95% of new products will incorporate IoT technology by 2050. The cloud and the internet are expected to be connected to everything by 2050.
6: What is the next big innovation?
Ans: We are creating smarter devices as computer power increases. In 2022, we will see a continued explosion of smart devices, including intelligent home robots.
People are also reading: